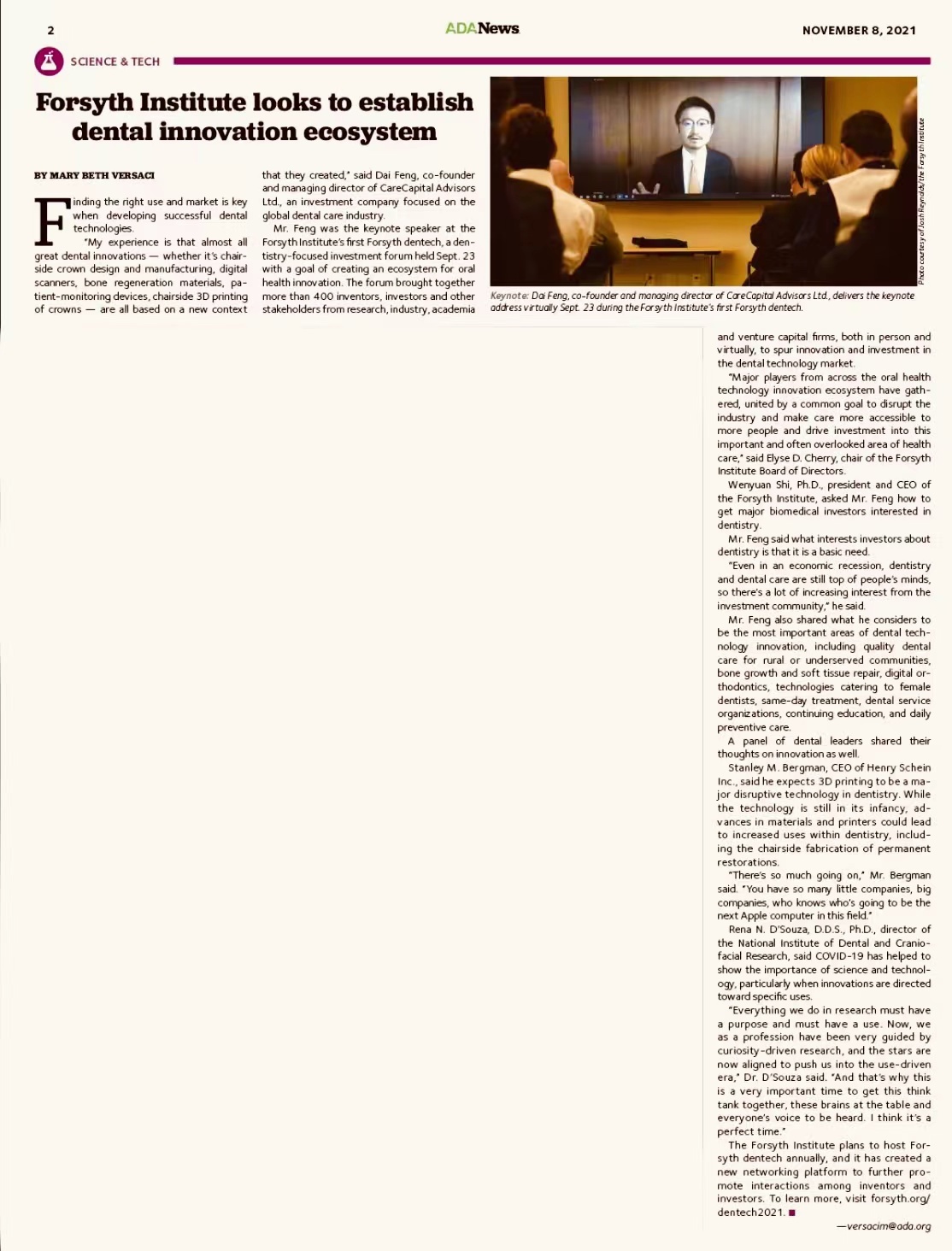 By MARY BETH VERSACI
Finding the right use and market is key when developing successful dental technologies.
"My experience is that almost all great dental innovations — whether it's chair- side crown design and manufacturing, digital scanners, bone regeneration materials, patient-monitoring devices, chairside 3D printing of crowns — are all based on a new context that they created," said Dai Feng, co-founder and managing director of CareCapital Advisors Ltd., an investment company focused on the global dental care industry.
Mr. Feng was the keynote speaker at the Forsyth Institute's first Forsyth dentech, a dentistry-focused investment forum held Sept. 23 with a goal of creating an ecosystem for oral health innovation. The forum brought together more than 400 inventors, investors and other stakeholders from research, industry, academia and venture capital firms, both in person and virtually, to spur innovation and investment in the dental technology market.
"Major players from across the oral health technology innovation ecosystem have gathered, united by a common goal to disrupt the industry and make care more accessible to more people and drive investment into this important and often overlooked area of health care," said Elyse D. Cherry, chair of the Forsyth Institute Board of Directors.
Wenyuan Shi, Ph.D., president and CEO of the Forsyth Institute, asked Mr. Feng how to get major biomedical investors interested in dentistry.
Mr. Feng said what interests investors about dentistry is that it is a basic need.
"Even in an economic recession, dentistry and dental care are still top of people's minds, so there's a lot of increasing interest from the investment community," he said.
Mr. Feng also shared what he considers to be the most important areas of dental technology innovation, including quality dental care for rural or underserved communities, bone growth and soft tissue repair, digital orthodontics, technologies catering to female dentists, same-day treatment, dental service organizations, continuing education, and daily preventive care.
A panel of dental leaders shared their thoughts on innovation as well.
Stanley M. Bergman, CEO of Henry Schein Inc., said he expects 3D printing to be a major disruptive technology in dentistry. While the technology is still in its infancy, advances in materials and printers could lead to increased uses within dentistry, including the chairside fabrication of permanent restorations.
"There's so much going on," Mr. Bergman said. "You have so many little companies, big companies, who knows who's going to be the next Apple computer in this field."
Rena N. D'Souza, D.D.S., Ph.D., director of the National Institute of Dental and Cranio- facial Research, said COVID-19 has helped to show the importance of science and technology, particularly when innovations are directed toward specific uses.
"Everything we do in research must have a purpose and must have a use. Now, we as a profession have been very guided by curiosity-driven research, and the stars are now aligned to push us into the use-driven era," Dr. D'Souza said. "And that's why this is a very important time to get this think tank together, these brains at the table and everyone's voice to be heard. I think it's a perfect time."
The Forsyth Institute plans to host Forsyth dentech annually, and it has created a new networking platform to further promote interactions among inventors and investors.